At the beginning of December 2018, the official launch for the Online Crime Reporting Portals of the Rhineland-Palatinate Police and Saarland Police took place. Criminal charges can now be filed via smartphone, tablet or desktop PC – citizen-centric and independent of time and place. The Online Crime Reporting Portals for both federal states have been implemented with HybridForms, the form solution by icomedias.
Easy-to-use online application for smartphone, tablet and desktop PC
The Online Crime Reporting Portals in Rhineland-Palatinate and Saarland are integrated into the respective police portals. In the first stage, reports on fraud, damage to property and theft, information on suspicious observations as well as praise and complaints can be submitted electronically.
The user is guided step by step through the application. The design of the forms was focused on optimal usability, clarity and comprehensibility. All required mandatory fields are clearly marked, the system counts the number of still open required fields and displays the current status live. Tabs with headings structure the form pages into individual sections and thus facilitate navigation. The user should be able to concentrate on the important entries – therefore extended fields are only displayed if they are relevant in the respective context (»conditions«). The user has 90 minutes for each report, a status bar in the footer of the application currently shows the remaining time. After submitting the completed form, a PDF preview is displayed in the web browser and the user receives an e-mail confirming receipt of the request, including an online file number.
All incoming reports are reviewed and qualified by back-office officers and then forwarded to the responsible organisational unit or police station. The processes are automatically transferred from the Online Crime Reporting to the internal POLADIS police system and then processed as part of regular case handling.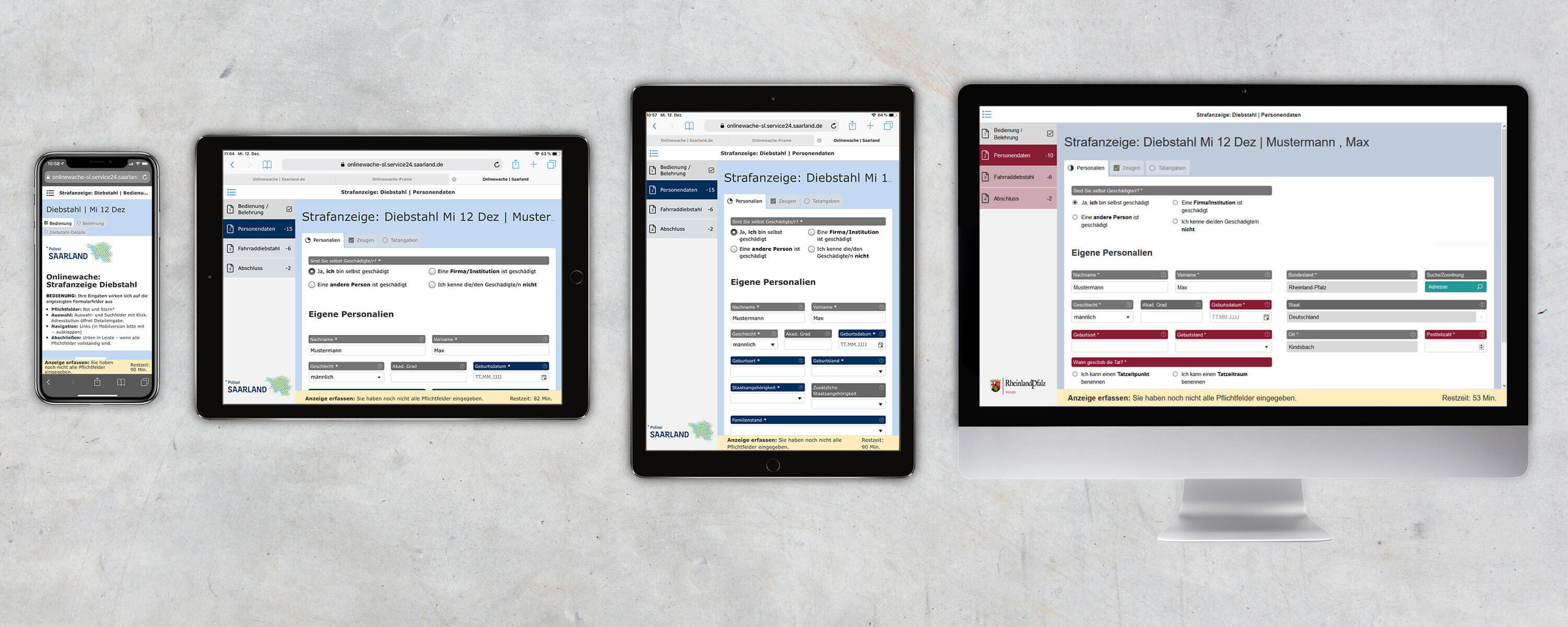 Online Crime Reporting of Rhineland-Palatinate Police and Saarland Police on smartphone, tablet and desktop PC, realized with HybridForms
Secure form solution HybridForms for Online Crime Reporting
The Online Crime Reporting Portal in Rhineland-Palatinate and Saarland is a joint project of both federal states – with a solution tailored to each state and in cooperation with the respective data protection officers. Both applications were realized with the HybridForms form solution by icomedias, as separate versions and specially secured for external data collection. The additional module HybridForms Kiosk Server enables users to call up and complete forms in their browser via a Secure Web Link without prior registration.
The project »Online Crime Reporting with HybridForms« shows how added value can be created for the population and the police: The easy access via a web portal, the intuitive use and the possibility to fill out the form with a familiar device (smartphone, tablet or desktop PC) reduce reluctance. For police officers, it means a significant reduction in the number of criminal charges to be filed and thus time savings – modern policing for the benefit of all.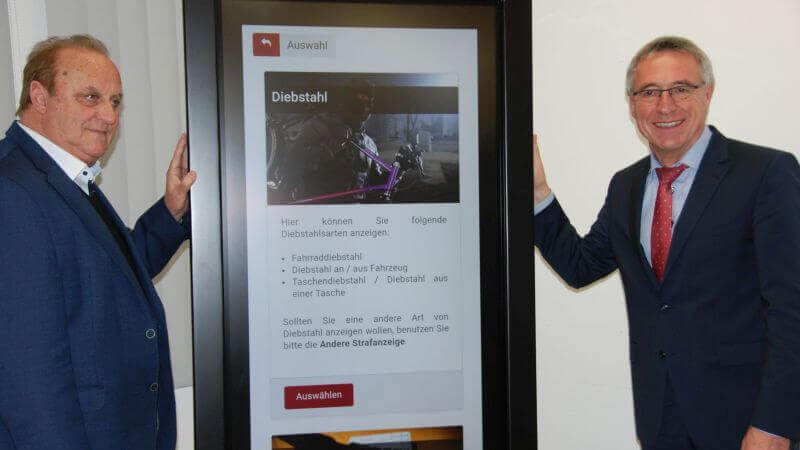 The Saarland Interior Minister Klaus Bouillon (CDU) and Interior State Secretary Günter Kern (SPD) from Rhineland-Palatinate at the opening of the Online Crime Reporting Portal in Trier on 6 December 2018 (photo: www.polizei.rlp.de)