Schaeppi Grundstücke: Change of Tenant Forms, Property Status Reports
Digital forms with photo documentation and signatures

Evidential documentation of defects
Schaeppi logs tenant changeovers and documents the condition of rental properties in reports using HybridForms: On site data entry on Windows tablets, interfaces to/from the ERP system, SQL Server 2014 reporting services.
HybridForms and mobile forms in property management applications
The company's field staff completes most of the forms on location at the rental properties – frequently without an Internet connection. Employees enter the data into mobile tablets, add photos, drawings, voice memos and maps to the documentation. The data is instantly shared with third party systems, such as ERP solutions. The result: Faster and more efficient processes.
About Schaeppi Grundstücke
The family-owned and operated company has been providing real estate related services for more than 80 years. Schaeppi Grundstücke works for individual homeowners, private and institutional investors as well as tenants.
Headquartered in Zurich, the enterprise also has branch offices in Basel and St. Gallen.
Schaeppi Grundstücke's clientele consists of approximately 250 institutional real estate owners, 130 condominium owners' associations and more than 600 private individuals.
Photos & drawings
Take photos instantly with the tablet's built-in camera

Add mark-ups in different colors directly to photos

Use the drawing tool to create your own freehand sketches
Multimedia content: Added value thanks to photos, sketches and voice memos
Biometric signatures
All parties involved sign the forms in their own hand

The signatures are authentic and legally binding
Signatures captured right on the tablet: Preserves the evidential value of the documentation
Automation & interfaces
Interfaces from/to the in-house ERP system

Form automation: Complete fields from the ERP system ahead of time

Automatic reporting using the SQL Server 2014 Reporting Services
Data sharing with third party systems: Integral workflow

»HybridForms digitalizes all tenant change data on location. The electronic form replaces the hard copy paper version we used in the past. Hence, damages can be recorded right away and the information can be made instantly available on our in-house system and to everyone involved. Even before they are used, the forms are filled using data from our system. The application of standards enables me to generate my own workflows and to continue to utilize the required data.«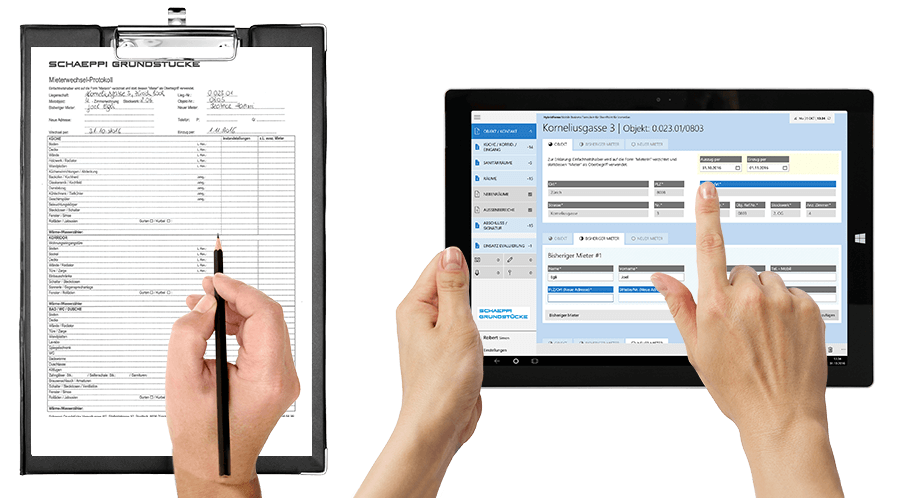 Mobile forms in real estate management:
Consistent digital workflow, more efficient processes
Generating custom form templates
Create custom tailored templates in the HybridForms Designer using drag & drop

Integrate data from third party systems, automatically prefill defined fields in forms
Work in online or offline mode
Universal Windows App and Microsoft Continuum – use on desktops, laptops, tablets and smartphones
Send and archive documents as PDF files
Also send completed forms as PDF documents via e-mail

PDF files can be archived in any DMS (optionally with digital signatures or after conversion into an anonymous file)
HybridForms in property management
Replace hard copy paper forms with consistent digital processes and check lists. The digitalization and mobilization will accelerate your processes; make them more efficient and transparent.
The system achieves all of that while paying for itself in just a few months thanks to the reduction of unnecessary administrative work of more than 10% per annum.
Mobile forms with HybridForms
Meets the needs of companies: Intelligent, process-driven data collection for teams of ten or more.
Fully functional offline, authentic handwritten signatures. HybridForms uses SharePoint Server or Office 365 and a cross-platform mobile app for Android, iOS, Windows 10 as well as a web app for HTML5 browsers for your back office (also as a replacement for InfoPath).