Spital STS AG: Digitally documented patient information
Digital protocols, signatures and archives
Spital STS AG documents discussions with patients and their consent with HybridForms: Data is digitally recorded and legally confirmed by means of Windows tablets at the care facilities.
HybridForms and digital forms in medicine
Recording medical data on-the spot with tablets and thus immediately integrating it into clinical and administrative processes saves time and improves security, transparency and efficiency.
Recording data digitally is faster than using paper and the data is immediately available for further processing – digitalization reduces risks.
As the regional hospital center, Spital STS (Simmental – Thun – Saanenland) AG provides health care at the hospitals of Thun and Zweisimmen (Switzerland) to a resident population of roughly 130,000 and to tourists in the region.
Over 1,700 employees care for patients, round the clock.
Approximately 16,000 in-patients and 190,000 out-patients receive medical care every year.
Biometric signatures
Patients and doctors sign the forms by hand

Legally-binding consent and documentation
Legally-admissible documentation: Authentic data
Digital workflow
Process of patient information is digital from end to end

Data input and processing will be accelerated

Generation of PDF/A documents for archiving
Optimized processes: More time for the patients
User-friendly design
Forms can be completed intuitively, without any instructions

Medical notes can be entered directly in the form

Optimal, clear presentation and design of forms
Intuitive use: Easy handling of tablet and form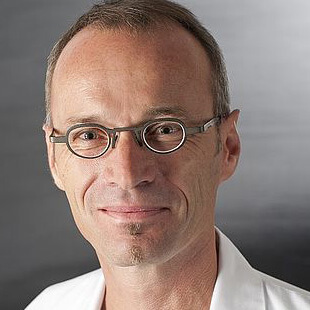 »HybridForms helps us to take another step on the way to becoming a paperless hospital.«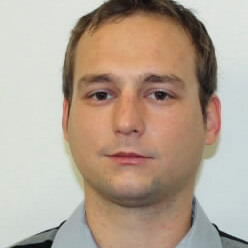 »HybridForms simplifies the process of patient interaction and the patient's consent to examination. Traditional paper documentation will be replaced by electronic forms, because these are readily available anywhere. The forms can be pre-filled with HIS data to prevent errors and accelerate procedure. The intuitive app allows anyone to use HybridForms without any training.«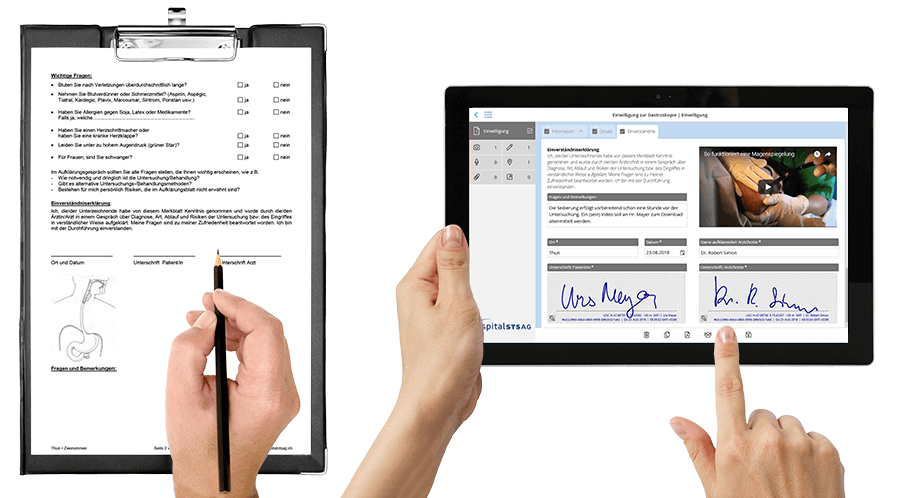 Digital documentation in medicine:
Accelerates processes and reduces risks
Create customized digital templates
Create custom templates for forms with HybridForms Designer

Data can be integrated from external systems such as a HIS and form fields can be pre-filled
Completing forms offline
Record data using the HybridForms App

With a

desktop computer, laptop, tablet or smartphone

– reliably online and

offline
Stores data instantly and securely
Secure Microsoft SharePoint 2013 centralized data platform

Automatic data synchronisation with SSL/TSL encryption
Benefits of HybridForms in healthcare
Medical staff has more time for its core responsibilities, data is available faster and more readily, and the incidence of errors is reduced by transparent, consistently comprehensive documentation.
HybridForms offers all this and pays for itself in just a few months by reducing unnecessary administrative work by over 10% a year.
Mobile forms with HybridForms
Meets the needs of companies: Intelligent, process-driven data collection for teams of ten or more.
Fully functional offline, authentic handwritten signatures. HybridForms uses SharePoint Server or Office 365 and a cross-platform mobile app for Android, iOS, Windows 10 as well as a web app for HTML5 browsers for your back office (also as a replacement for InfoPath).